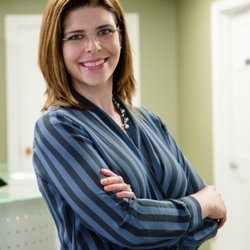 Empowering patients to take charge of their health is what makes Dr. Erin Ducat excited. With a bachelor's degree in Biology and Chemistry, she had the chance to go into any PhD or medical school program, but that wasn't a good fit for her.
"Good health doesn't come from a pill bottle or from invasive procedures. Most of traditional medicine is focused around a script pad. I wanted something different — a practice where I could make a connection with my patients and make a difference in their lives with natural treatment options for back and joint pain."
History
In 2008, Dr. Erin Ducat opened Ducat Chiropractic & Sports Medicine in Old Town Bloomingdale. Since then, the practice has become multi-specialty and offers Chiropractic, Sports Medicine, Physical Therapy, Non-Surgical Orthopedics, Pelvic Floor Therapy, Acupuncture and Massage Therapy all under one roof. They serve hundreds of patients each year and have been voted as Best Chiropractor by the Daily Herald's Readers Choice more than once.
Dr. Ducat is the only Triple Board-Certified Chiropractor in Illinois in Non-Surgical Orthopedics, Sports Medicine and Rehabilitation. In addition, she is a Certified Strength and Conditioning Specialist (CSCS) and StrongFirst Kettlebell Instructor.
In addition to her clinical practice, Dr. Ducat teaches continuing education classes for fitness professionals and other chiropractic colleagues. She is the race director for the annual April Fools 5k and is the Secretary of the Board of Directors for the Illinois Chiropractic Society (ICS).
Dr. Ducat and her husband, Steve, live in Roselle and keep busy chasing around their two sons, Oliver and Emmett . She tries to keep some healthy balance in her life by going to Crossfit and running 5k-half marathon distance races.
Professional Practice History
2006 Preceptor, Fox Chiropractic Center, Geneva, IL
2006-2008 Associate Chiropractic Physician, Geneva, IL
2008-present Owner and Chiropractic Physician, Ducat Chiropractic & Sports Medicine, Bloomingdale, IL
Education
2003 B.A. in Biology. Trinity Christian College, Palos Heights, IL
2004 B.S. in Human Biology. National University of Health Sciences, Lombard, IL
2006 Doctor of Chiropractic. National University of Health Sciences, Lombard, IL
Board-Certifications
Certified Chiropractic Sports Physician, American Board of Chiropractic Sports Physicians
Board-Certified Diplomate, American Chiropractic Board of Rehabilitation
Board-Certified Fellow, Academy of Chiropractic Orthopedists
Certifications & Techniques
Pelvic Floor Level 1, Herman & Wallace Pelvic Rehabilitation Institute
100-Hr Medical Acupuncture Certification
Certified Strength and Conditioning Specialist, National Strength and Conditioning Association
Graston Technique Level 2 Certified
Functional Movement Screen (FMS) Level 1 Certified
Selective Movement Functional Assessment (SFMA) Level 2 Certified
TRX Suspension Training Level 2 Sports Medicine Certified
StrongFirst, Kettlebell SFG Instructor Level 1 Certified
McKenzie Method® of Mechanical Diagnosis and Therapy Part A, B and C
Memberships
Illinois Chiropractic Society, Secretary of the Board of Directors
American Chiropractic Association
American Chiropractic Board of Sports Physicians
National University of Health Sciences Alumni Association
Member of Trinity Lutheran Church in Roselle